Waterloo and Hanoverian LSGC to 3rd Foot Guards Waterloo to...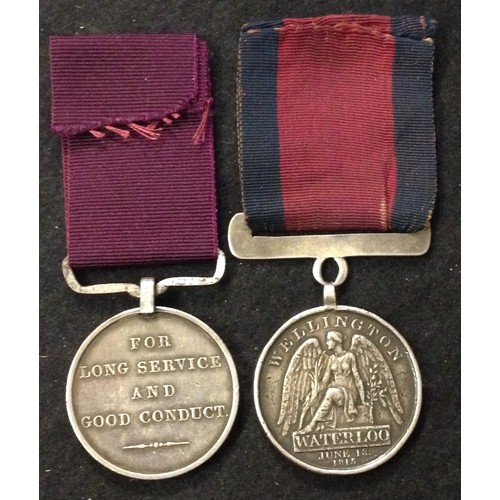 Waterloo and Hanoverian LSGC to 3rd Foot Guards

Waterloo to Corpl. W. Baynham, 2nd Batt. 3rd Regt. Guards; LSGC, Hanoverian reverse, to W. Baynham Colour Serjt.  S. Fusilier Guards 1833.

The Waterloo with altered flat-bar suspension and (apparently) original ribbon; the LSGC with clip and small bar suspension.

The Waterloo Fine only with pitting and contact marking which affects naming in a few places (though fully legible); reverse better than obverse; the LSGC is about VF.

William Baynham, a tailor by trade, was born in St. Peter's, Hereford c 1792; the surname is well-represented around Ross-on-Wye at that time.

He served entirely in the 3rd Guards from Nov. 1813 to May 1833 (finally over 21 yrs) and received his LSGC in the rank of Colour Sergt. in 1833.

He had served in "Holland, Belgium and France" in 1813-14, present in the attacks in Bergen-op-Zoom and on Antwerp and in the Battle of Waterloo.

The regt. is well-known for its part in the defence of Hougoumont and related actions during the battle of Waterloo where they suffered over 320 casualties. Recipient served in Sir Alexander Gordon's company but directly under Captain Wigston (Gordon being absent on staff duty and killed at Waterloo).

He later served with the regt. in the British intervention in Portugal, 1827-28.

Baynham was discharged ("a very good and efficient soldier and meritorious non-commissioned officer") through length of service and with chronic inflammation of the lungs and dysentery, the result of service.

The 1833 Pension Chelsea register gives his intended place of residence as Leicester.
Auction Date:
28th Jan 2020

at 10am



Fees apply to the hammer price:
Room and Absentee Bids:
20.40% inc VAT*
Online and Autobids:
20.4% inc VAT*
*These fees include buyers premiums and internet surcharges.
Please see the
auctioneers terms & conditions
for more information
Other Lots in this Auction
Sale Dates:
28th Jan 2020 10am (Lots 1 to 1009)

Telephone(s):
01694 731781
01743 600951